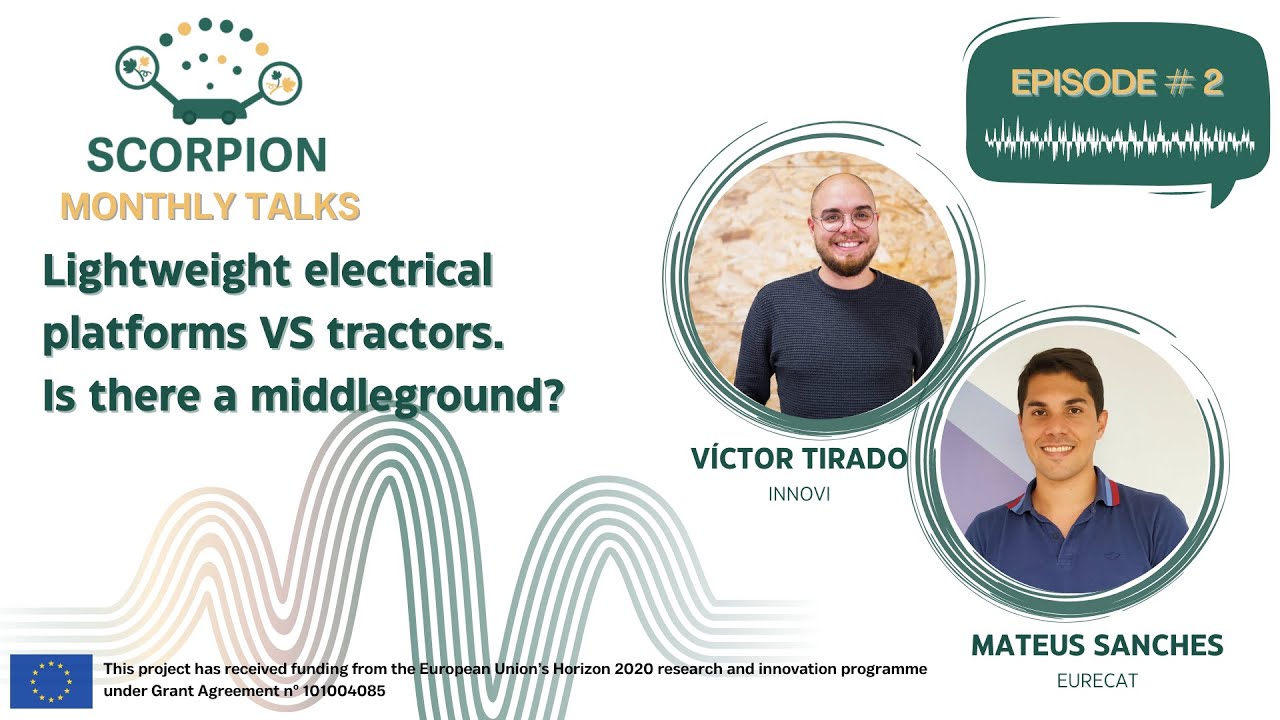 The SCORPION project is launching SCORPION Monthly Talks, a monthly Podcast series, as part of its activities this year. Listeners will be able to understand the progress of the project, its findings and its advances. Each episode will involve experts from the project team, who will discuss their research and provide insights into the challenges and solutions for the viticulture industry. In addition, the content will explore precision farming, robotics and new technologies to help develop viticulture practices and ensure sustainability, productivity and efficiency.
In the second episode of the SCORPION Monthly Talks, Víctor Tirado from INNOVI and Mateus Sanches from EURECAT will be addressing the importance of lightweight electrical platforms and traditional tractors, and exploring the possibilities of creating a middleground between the two. They will be discussing the advantages and disadvantages of both, and how the integration of robots and other technological solutions could bridge the gap and help bring about a more efficient and sustainable agricultural industry. Tune in to explore the potential of mobile robotics and its potential to revolutionize the agricultural sector.
Tune in to the 𝐒𝐂𝐎𝐑𝐏𝐈𝐎𝐍 𝐌𝐨𝐧𝐭𝐡𝐥𝐲 𝐓𝐚𝐥𝐤𝐬 and listen to "Lightweight electrical platforms VS tractors. Is there a middleground?"
A special thanks to our guests, Víctor Tirado and Mateus Sanches for this insightful discussion.
Find out the full episode here: https://youtu.be/IiN934aAPCI
Stay tuned and be the first to listen to our next episode!