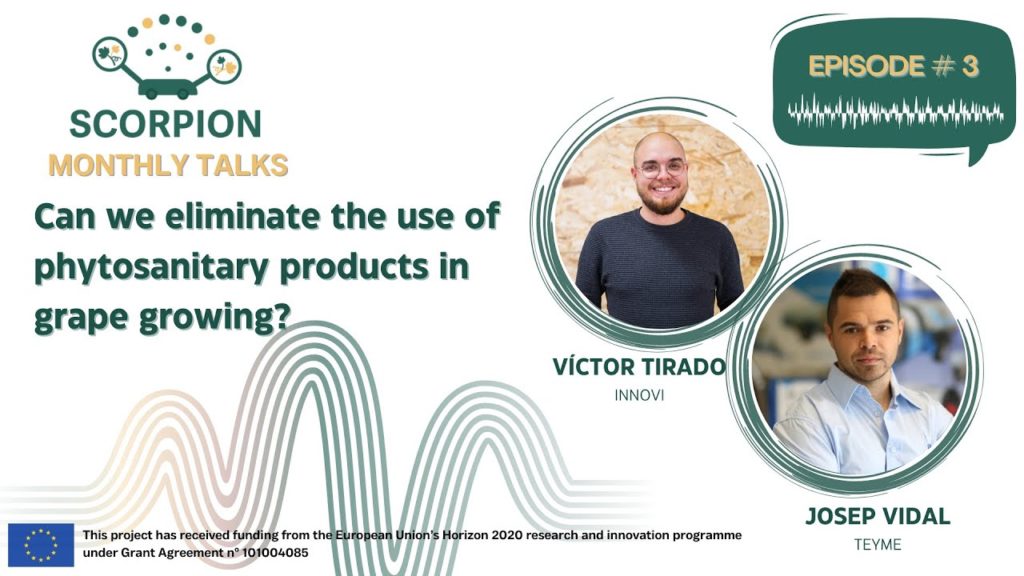 The SCORPION project is launching SCORPION Monthly Talks, a monthly Podcast series, as part of its activities this year. Listeners will be able to understand the progress of the project, its findings and its advances. Each episode will involve experts from the project team, who will discuss their research and provide insights into the challenges and solutions for the viticulture industry. In addition, the content will explore precision farming, robotics and new technologies to help develop viticulture practices and ensure sustainability, productivity and efficiency.
Join us for the third episode of our exciting podcast series, SCORPION Monthly Talks, titled "Can we eliminate the use of phytosanitary products in grape growing? The use of UV lights in the SCORPION project."
In this episode, we bring together Víctor Tirado, Innovation Manager at INNOVI, and Josep Vidal, CTO at TEYME, to explore the remarkable strides being made in reducing the use of phytosanitary products in viticulture. We delve into groundbreaking solutions that are revolutionizing the grape growing industry, addressing the pressing need to reduce the use of phytosanitary products. We explore how advanced machinery, equipped with cutting-edge sensors, is able to reconstruct the environment in real-time, enabling precise analysis of each plant's unique needs.
These innovative techniques not only enhance safety in agricultural practices but also promote energy efficiency in the machinery used, aligning perfectly with the ambitious goals outlined in the Green Pact by the European Commission.

Tune in to our podcast and discover how the SCORPION project is paving the way towards sustainable grape cultivation.
Don't miss this enlightening conversation! Click here: https://www.youtube.com/watch?v=1UdClLn-OZw